With our tropical Summer weather, my garden has been rapidly producing a fabulous crop. In particular cherry tomatoes, basil and cucumbers.  It's perfect timing as with this hot weather, salads are a refreshing meal or meal accompaniment.
Here is a great salad that is so hearty it can be your main meal.  And don't worry, if you don't have a garden harvest -these vegetables are in season therefore easily purchased at your local green grocer or farmers market.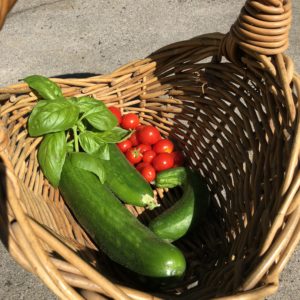 Cucumber, tomato & mixed bean salad:
Serves:  4 main meals
Prep Time: 5- 10 min
(how quick are you at chopping?)
Ingredients:
2 lebanese cucumbers, thinly sliced
1 cup of cherry tomatoes, quartered
1/2 an avocado, cubed
1 big handful basil leaves, roughly chopped
1 big handful parsley leaves, roughly chopped
400 g tin 4 bean mix, rinsed
100 g pitted kalamata olives
50 g of your favorite feta, diced
Drizzle good quality olive oil (I use Cobram Estate Premiere)
Drizzle red wine vinegar
Method:
Prepare (chop/rinse) all items as listed above
Throw them all into a serving bowl
Drizzle over the olive oil & red wine vinegar, gently mix around
Serve & enjoy!
Notes:
I sometimes add lettuce or snow peas to this, depending how much is in the garden.  I try to add 3 different vegetables for nutrition.
This recipe is covering vegetable, protein, essential fats, carbohydrates, dairy intake.