Shopping with a conscience has become more popular with the benefits of talking to the growers, fresher produce & a wonderful feel good shopping atmosphere.
Farmers Markets are growing in both the number of markets available & people going to them for their grocery shop. I have been shopping at Farmers Markets since 2005, and it has been very interesting watching the changes over the years – all for the positive.
Why go to a Farmers Market?
Fresh food that generally tastes better, and stays fresher longer
Food that is in season
Tips from the grower (cooking, storing, when best eaten)
Great community atmosphere
Varies the "shopping rut" of buying & cooking the same foods every week (this helps you gain a variety of different nutrients in your diet)
Where are your local Farmers Markets?
There's a whole list to choose from here.
What do you need to bring?
Cash! (some markets have an ATM, and some stall holders accept cards)
A trolley of some description is very helpful
Shopping bags
What can you buy there?
Each Farmers Market has a different variety of stalls but you can usually find:
Fresh vegetables
Fresh fruit
Meat (beef, chicken, lamb, venison)
Fish (some Markets have fresh fish, fresh mussels, smoked salmon & trout)
Dairy
Herbs & Spices
Pastries & Bread
Nuts & Dried Fruit
Pastas & Sauces
Jams & Sauces
Plants
Food to eat there- Breakfast/lunch/snacks & of course great coffee!!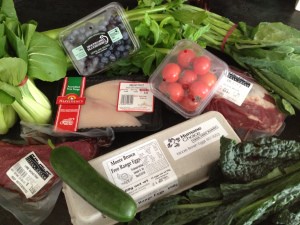 Want to read more?
Check out a great article "Buy direct and the food is fresher, the prices better, and the farmers happier"
Can't seem to get to a Farmers market, don't worry there's quite a few online delivery services now too.
See you at the Market!!